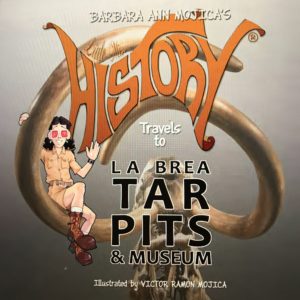 Little Miss HISTORY Travels to LA BREA TAR PITS & MUSEUM, written by Barbara Ann Mojica and illustrated by Victor Ramon Mojica, is the eighth book in The Little Miss HISTORY Travels to… nonfiction children's series.  This book is both educational and fun with a creative mix of drawings intermingled with beautiful landscape pictures to make every page colorful and eye-catching!  What a great way to introduce a landmark to a child!
The story takes us to Los Angeles where the La Brea Tar Pits are located.  Little Miss History explains what tar pits are and tells the story about the discovery of skeleton fossils and how they were formed.  She even introduces the reader to the scientists involved and their discoveries!  Finally, Miss History takes the reader on a detailed tour through the museum and discusses the history of the area and the museum.  She does this all with great illustrations and in a way that kids can understand and enjoy!
I learned a lot from this book, which is something I love!  It's wonderful to read a book that takes you somewhere you have never been and shows you not only how a place looks today, but what it was like so many years ago and how things developed over time.  I will definitely be reading this book with my son, and the next time we are in Los Angeles, you know where we will be visiting!
If you are interested in this book, there is a direct link to Amazon in the menu column on the left.  Please note that I am an Amazon affiliate which means if you buy anything through my site, I get a very small kickback at no cost to you.