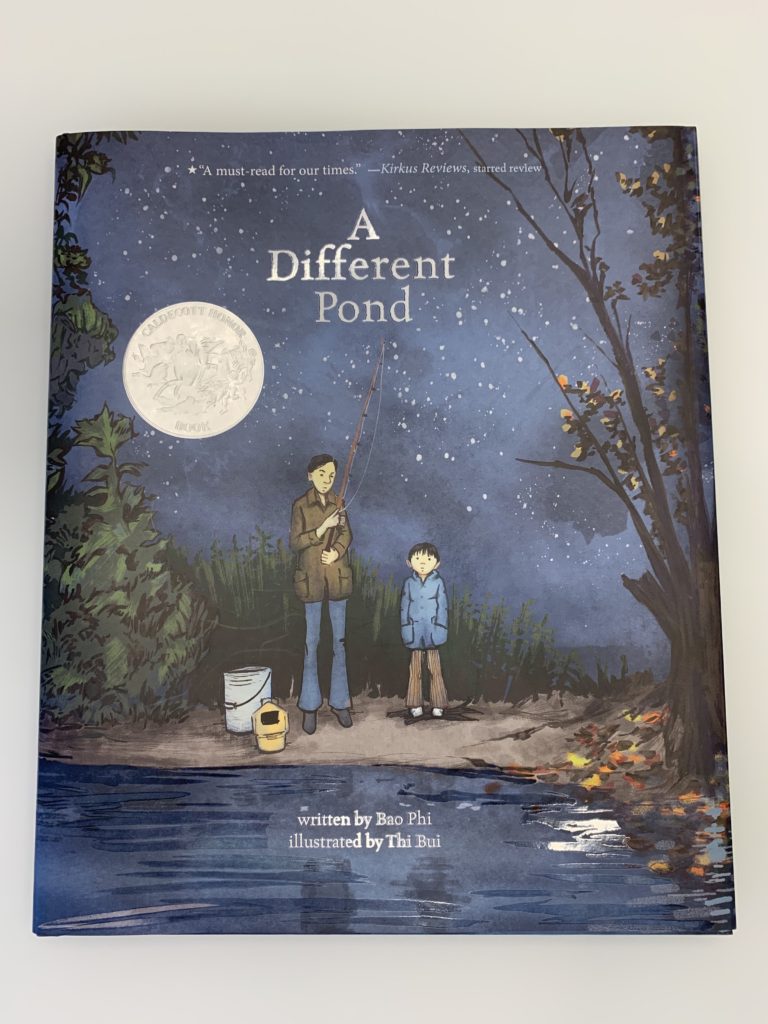 This is my second year participating in Multicultural Children's Book Day (MCBD) as an author sponsor and my first as a reviewer. MCBD is on January 25, 2019 this year and I can't wait! In addition to helping to organize and set up the big MCBD celebration at my son's school, I get to review a multicultural book – and not any multicultural book, but a Caldecott Honor winning book, A Different Pond, written by Bao Phi and illustrated by Thi Bui! Thank you, Jennifer Glidden at Capstone Publishing, for sending me this touching, poignant and beautifully written and illustrated tale!
The story starts out simply enough about a boy going fishing with his father. The early morning outing, the purpose of which is to catch fish for food and not for sport, develops into a bonding experience where the boy learns a little about his father's childhood in Vietnam and his struggles and sacrifices as an immigrant and a parent.
While the plot is simple – a father and son fishing trip – the story is deeply layered and makes inferences to issues relating to diversity/racism, culture, immigration, war, death and poverty. The underlying story is quite sad and my heart ached for the little boy and his father in a few parts of the book, especially when the father had to explain why they still had to fish for food even though he started working a second job – "Everything in America costs a lot of money." Only by catching fish would they eat that night. The story, however, does not dwell on these sorrowful and painful issues, but instead emphasizes the importance of family, traditions, hard work and hope, as well as the joys of the family dinner.
This book is fantastic for all ages. The very little ones will enjoy the story about fishing and the fun family dinner, while older children will notice and understand the inferences made within the story and hopefully empathize with the hardships of struggling immigrant families. This book provides authentic insight into the poor immigrant experience and the perfect introduction to discussing the plight of refugees everywhere. I hope there will be more books by this amazing author-illustrator team!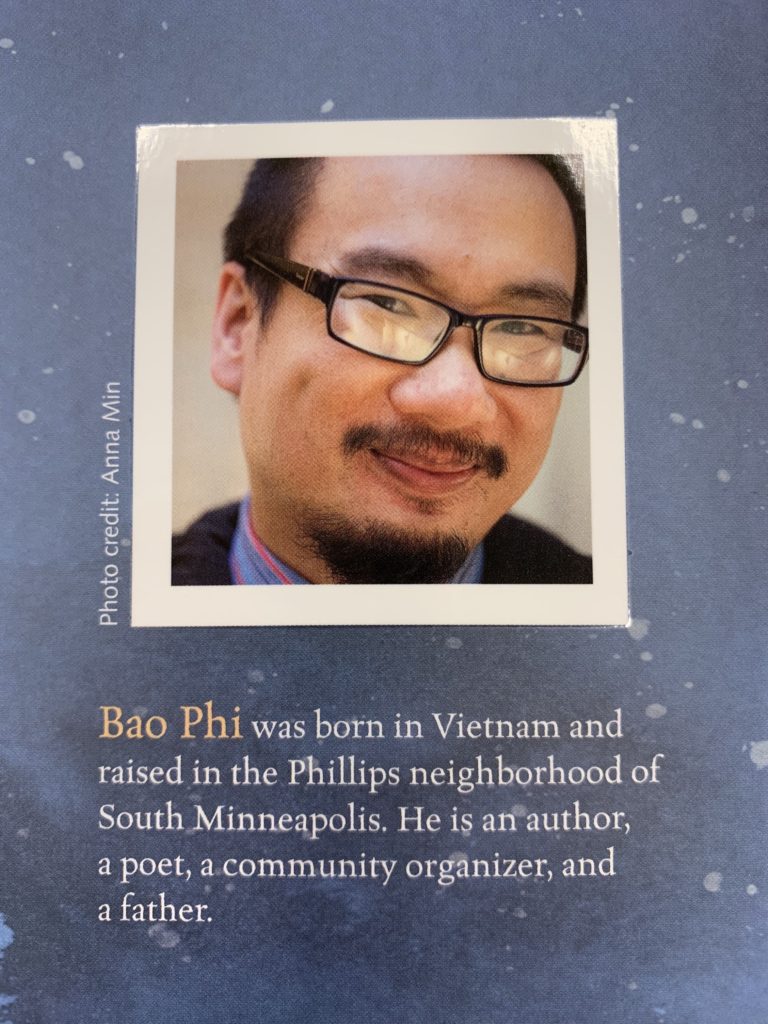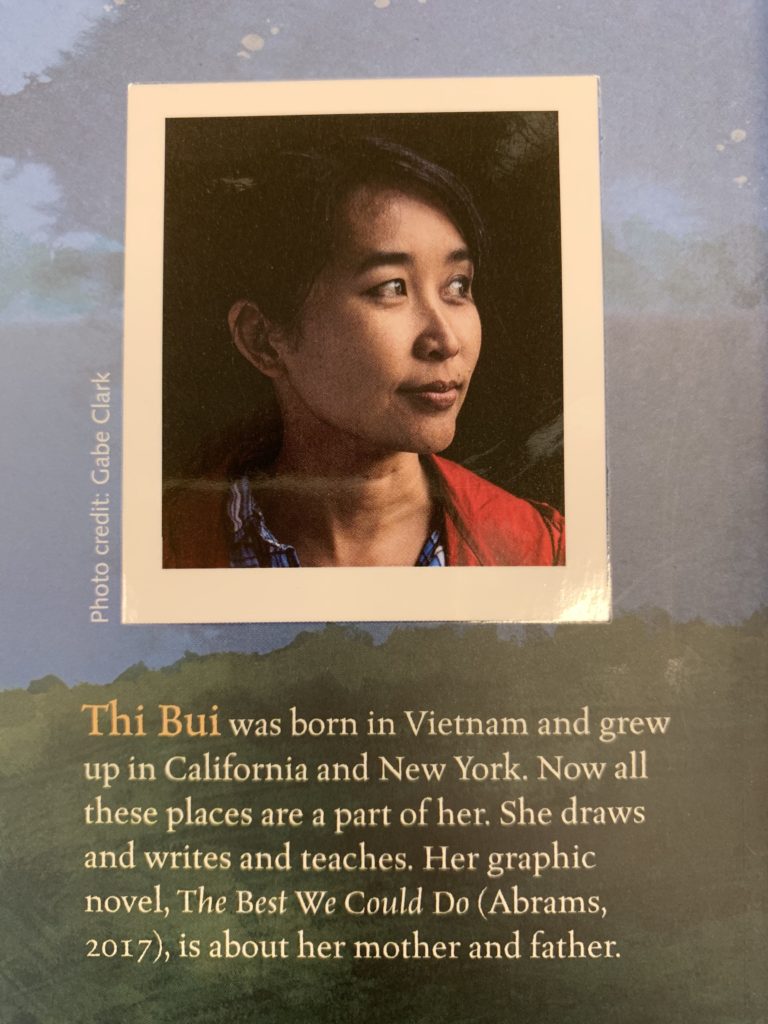 ___________________________________________
Multicultural Children's Book Day2019 (1/25/19) is in its 6thyear and was founded by Valarie Budayr from Jump Into A Bookand Mia Wenjen from PragmaticMom.Our mission is to raise awareness of the ongoing need to include kids' books that celebrate diversity in homes and school bookshelves while also working diligently to get more of these types of books into the hands of young readers, parents and educators.
MCBD 2019 is honored to have the followingMedallion Sponsors on board

MCBD 2019 is honored to have the followingAuthor Sponsors on board
We'd like to also give a shout-out to MCBD's impressive CoHost Team who not only hosts the book review link-up on celebration day, but who also works tirelessly to spread the word of this event. View our CoHosts HERE.
Co-Hosts and Global Co-Hosts
A Crafty Arab, Agatha Rodi Books, All Done Monkey,Barefoot Mommy,Biracial Bookworms,Books My Kids Read, Crafty Moms Share, Colours of Us, Discovering the World Through My Son's Eyes, Descendant of Poseidon Reads, Educators Spin on it, Growing Book by Book, Here Wee Read,Joy Sun Bear/ Shearin Lee, Jump Into a Book, Imagination Soup,Jenny Ward's Class, Kid World Citizen,Kristi's Book Nook, The Logonauts, Mama Smiles,Miss Panda Chinese, Multicultural Kid Blogs, Raising Race Conscious Children, Shoumi Sen,Spanish Playground
TWITTER PARTY Sponsored by Make A Way Media: MCBD's super-popular (and crazy-fun) annual Twitter Party will be held 1/25/19 at 9:00pm.E.S.T. TONS of prizes and book bundles will be given away during the party. GO HEREfor more details.
FREE RESOURCES From MCBD
Free Multicultural Books for Teachers: http://bit.ly/1kGZrta
Free Empathy Classroom Kit for Homeschoolers, Organizations, Librarians and Educators: http://multiculturalchildrensbookday.com/teacher-classroom-empathy-kit/
Hashtag:Don't forget to connect with us on social media and be sure and look for/use our official hashtag #ReadYourWorld.