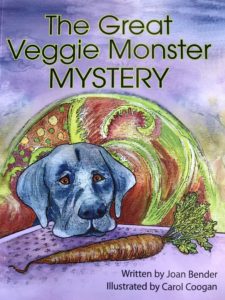 The Great Veggie Monster Mystery, written by Joan Bender and illustrated by Carol Coogan, is an adorable story about a brother and sister who do not like to eat vegetables.  I'll bet you are already thinking, "Yep – sounds like my kids!"  I know my son doesn't like them (and to be honest, I wasn't a huge veggie fan as a kid either!).  I'll share a couple of my tricks with you at the end of the review – maybe they will work for you, too!  But, I digress – back to my review!
As I stated earlier, the brother, named Sprout, and little sister, called Ginger, do not like vegetables. Their parents try to convince them to eat their vegetables by saying things we all say, such as "[e]at your vegetables so you grow big and strong."  But, of course, it doesn't work.  One evening, Sprout and Ginger are not allowed to leave the table until they finish their vegetables, so they sit there until bedtime when their mom tells them to go to bed and to eat the veggies at breakfast.  But, when Sprout and Ginger wake up the next morning, the veggies are gone!  They think maybe the Veggie Monster ate them, so they set out a trap to catch the Veggie Monster.  For several nights they set out new traps using a different vegetable as bait.  Obviously, they had to try the veggies first to make sure they were fresh.  Sprout and Ginger tasted all kinds of veggies while making the traps and discovered that they actually liked veggies!  Finally, at the end of the story, Sprout and Ginger try a new technique and ultimately catch the Veggie Monster!  Or do they?!?!  You'll have to read the story yourself to find out!
What a clever way to get your kids to try new vegetables!  And, it shows them that they should try new foods, because they may like them!  You never know until you try!  I wish this book was around when my son was younger.  Although I probably would have wanted to read it by myself first, try the Veggie Monster trick and then read the story with my son after we caught our own Veggie Monster!  Hahaha! Kids will be able to relate to this story and will enjoy all the colorful illustrations which follow the story and bring it to life.  As an added bonus, there are smoothie and milkshake recipes at the end of the book, along with a list of tips and advice to encourage healthy veggie eating!
If you are interested in this book, there is a direct link to Amazon in the menu column on the left (scroll to the bottom).  Please note that I am an Amazon affiliate which means if you buy anything through my site, I get a very small kickback at no cost to you.
Now for a few of my veggie "tricks":
I freeze peas and give them to my son as a snack before dinner.  It changes the texture but the peas retain all the nutrients and are transformed into a frozen treat (ok, that may be a bit of an exaggeration, but it's good – try it!)
When I make spaghetti or any long pasta, I sneak in zucchini or squash "spaghetti". I boil until it's soft, mix it in with the pasta, and most of the time my son can't even tell it's in there. Boiling for too long will wash away some of the nutrients, but hey, it's better than nothing!
When I make pasta sauce, I always throw in some chopped spinach. You can see the green in the sauce but you can't really taste it.
If you have any tips, I'm sure we would all love to hear them!  Please share by posting a comment.  Here's to healthier eating for all of us!  Good luck!