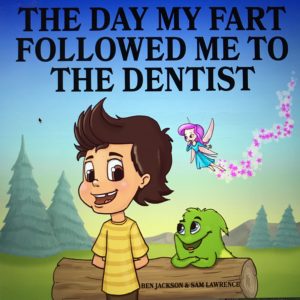 This adorable and comical book is written by the husband-wife team of Ben Jackson and Sam Lawrence, and illustrated by Danko Herrera.  If Ben Jackson's name sounds familiar, it could be because I featured him on this blog back in March, which you can see here:  http://eugeniachu.com/2018/03/15/meet-author-ben-jackson/.
OK, who doesn't think farts are hilarious!  I am a grown woman and I still think they're funny (that is, when I'm not gross out by them) – but maybe that's because I have an 8 year old son who thinks all things fart-related are awesome!  He can even fart on command (unfortunately) and does different poses while farting. He's named these fart poses and is quite proud of them.  I just shake my head and laugh at him (when I'm not pinching my nose and holding my breath). Oh well, he's having fun.  So, of course I was immediately intrigued by this book – now onto my review!
The Day My Fart Followed Me to the Dentist is the fifth book in the My Little Fart series and is as cute and funny as the title!  Little Fart is fart personified and is Timmy's best friend.  They go everywhere together and talk about everything, just like real best friends!  One day, Timmy's tooth starts to hurt and he needs to go to the dentist to get it pulled. Timmy consoles Little Fart and tells him not to worry.  Once the dentist removed Timmy's tooth, Timmy immediately felt better!  As a bonus, Timmy got to keep the tooth to give to the Tooth Fairy!  Timmy and Little Fart imagine what the wonderful and beautiful Tooth Fairy is like and Timmy explains to Little Fart that he thinks the Tooth Fairy uses all the teeth to build Tooth Fairy Land, which sounds amazing!  I want to go visit Tooth Fairy Land!
I highly recommend this book for several reasons.  As stated above, farts are funny.  Everyone farts and everyone has to deal with other people's farts sometimes.  One of the funniest parts (I think) of the story is where Timmy is speaking with his mom and she asks, "Hmm, can you smell that?" and Timmy responds, "Nope.  Must be you!" This cracked me up!  Reminds me of my son who likes to say, "You smelt it, you dealt it!"  Hahaha! I'm sure many of you can relate.
Another reason this book is so wonderful is because it shows that dentists are nice, helpful and really, not scary!  Most kids (and lots of adults, too) are afraid to go to the dentist.  This story shows that you needn't be afraid and supports the underlying message that it is important to take care of your teeth.
Even more important is that this book demonstrates the power of imagination.  As I stated in one of my previous reviews, imagination is where creativity and ingenuity begin for child development and is connected to their intellectual development.  By creating Little Fart, Timmy uses his imagination and is able to entertain himself and comfort himself. He also learns a lot by explaining things to Little Fart, thus reinforcing and understanding new ideas and concepts himself.
Finally, I would be remiss in not mentioning how beautiful and colorful the illustrations are.  Every page captures the reader's attention.
You can find this book on Amazon at:  https://www.amazon.com/Day-Fart-Followed-Dentist-Little/dp/198865615X/ref=tmm_pap_swatch_0?_encoding=UTF8&qid=1528382742&sr=8-1-spell