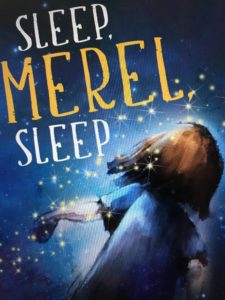 Sleep, Merel, Sleep, by Silke Stein, is a delightful and adventurous middle grade story about an 8 year old girl, named Merel, who has lost her Sleep after her sickly baby brother is born.   Merel's sleep abandons her because of her angry and abusive behavior due to losing her parents' attention.  Merel then has to go on a perilous journey in search of her Sleep if she ever wants to sleep again!  Along the way, an extremely tired Merel encounters several creatures, not all friendly, and some downright scary, and travels through faraway fantastical lands.  Luckily, Merel meets a few kind souls who help her.  As Merel searches for her Sleep, she learns empathy and starts helping others.  She realizes how selfish she has been and begins to understand how difficult things have been for her parents and her baby brother.
I love how the author weaves an enchanting tale filled with detailed imagery and feelings, and how she imparts life lessons throughout the story.  Lots of children will relate to Merel's feelings of jealousy and resentment, as well as frustration and fear.  At the beginning of the story, Merel is not very likeable, but as she overcomes hardships and learns acceptance, the reader roots for her and hopes that she will find her Sleep and be able to return home!
On a more personal note, I am crazy and super strict about sleep for my son.  Anyone who knows me will tell you that!  He was a horrible sleeper as a baby so I became obsessed with making sure he had a sleep schedule that was followed.  This drove people crazy, especially when we were on vacation! So, I really appreciate a book that shows how important sleep is. Well done, Silke Stein!
You can find this book on Amazon at:  https://www.amazon.com/Sleep-Merel-Silke-Stein-ebook/dp/B07BYPXLMC/ref=tmm_kin_swatch_0?_encoding=UTF8&qid=&sr=