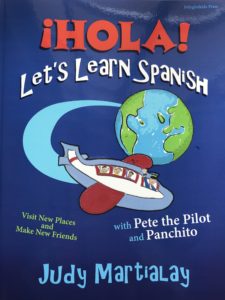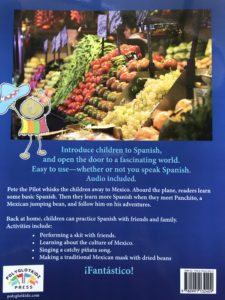 Hola! Let's Learn Spanish is written and illustrated by award winning author, Judy Martialay.  Now, if her names sounds familiar, it could be because you just read her fascinating Guest Post the other week right here on this blog!  You can see it again here at http://eugeniachu.com/2018/01/21/special-guest-post-by-award-winning-author-judy-martialay/.
Now, back to Hola! Let's Learn Spanish.  This book, about a jumping bean named Panchito, is SO MUCH MORE than just a story!  It's also an activities workbook for kids to practice speaking and reading Spanish, and includes such fun things like treasure hunt games, a skit for friends to perform, songs (in Spanish and English) and masks to make.  What a fun way to introduce Spanish and a little Mexican culture to children!
The story itself, even without all the amazing extra learning/playing guides, is adorable and educational.  Pete the Pilot flies us to Mexico and introduces some common Spanish words/phrases which will be used in the story.  Upon landing in a bean field, or en un campo de frijoles, we meet Panchito, a cute little Mexican jumping bean!  He is lonely and is looking to make friends, but the other regular beans, or frijoles, do not talk or play.  Panchito goes through a series of events, told in English with some Spanish woven throughout, and ultimately ends up at a child's birthday party where he makes lots of new friends!  I love happy endings!  And I love the way Judy weaves Spanish and Mexican culture into the story in a way that flows naturally and is understandable, even if you don't speak any Spanish!  And if you are in doubt, all the Spanish words and phrases, which are bolded throughout the story, are defined in the back of the book.  And if that's not enough, there's also an audio version of the book on her website so you can listen to the correct pronunciation of each word.  Judy has thought of everything to make this a fun and interactive way to learn Spanish!  I can't wait to share it with my son, who is learning Spanish!
If you are interested in this book, there is a direct link to Amazon in the menu column on the left.  Please note that I am an Amazon affiliate which means if you buy anything through my site, I get a very small kickback at no cost to you.  Happy reading!