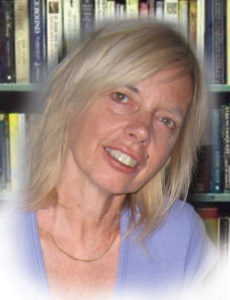 I am thrilled to introduce you all to Barbara Ann Monica!  As you may recall, I just reviewed her latest book, Little Miss History Travels to La Brea Tar Pits and Museum, which you can see here:  http://eugeniachu.com/2018/01/30/review-of-little-miss-history-travels-to-la-brea-tar-pits-museum/.
I am going to do something a little different this week and am going to let Barbara introduce herself!  In her own words —
I was born in Brooklyn, NY and raised in Ridgewood, Queens. As a child, I became fascinated with history so I pursued a Bachelor's Master's Degree and advanced graduate studies in the field. I spent more than forty years teaching in NYC and hold New York State certifications in Elementary, Special Education, and Administration. My career included classroom teaching and serving as a Special Education Administrator and principal of a special education preschool for developmentally delayed children. I taught the Wilson Reading Program to dyslexic children and was involved in teaching Applied Behavioral Analysis one to one with young autistic children.
When I retired from teaching, I began writing "Passages," a historical column for a local news magazine. I wanted to stay involved with children so I married my love of teaching with history by developing The Little Miss HISTORY Travels to…children's nonfiction picture book series to inspire children to learn about historical people and visit landmarks. I am a firm believer in Little Miss HISTORY'S motto, "If you don't know your history, you don't know what you're talking about." I am currently living in the Hudson River Valley, which is rich in history. Everywhere I go I see influences of the past, and I do believe our future is also built on that same foundation. Personally, I find my inspiration by thinking about the places I have visited and the issues that will appeal to children and adults. Then I pay close attention to topics that are currently being featured in the news and media. In addition, I strive to correlate them with information that may be less familiar to adults and children. My objective is to make my book series informative, inspiring and enlightening to children and adults. Finally, I am inspired by the curiosity of mankind and his ability to constantly enrich his knowledge base. Modern technology has done so much to expand our universe. Our children will have a marvelous opportunity to learn about the past and use this knowledge to improve future world conditions.
The Little Miss HISTORY book series focuses on historical sites that explore famous historical characters, issues, and events that have shaped history and continue to pose important questions today. Topics of the books already released include Mount Rushmore, The Statue of Liberty, Sequoia National Park, Ford's Theater, Intrepid Sea, Air & Space Museum, Ellis Island, Mount Vernon, and La Brea Tar Pits & Museum. While each book portrays the characters and events, little-known tidbits and those characters previously forgotten are remembered. They bring up issues that children need to be aware of and discuss such as immigration, Native American rights, slavery, air pollution, justice, and the strengths and weaknesses of character found in historical personages. These books are richly illustrated. Younger children learn from studying these pictures. elementary and middle school readers can read them independently. Adults discover new ideas. The series is intended to be shared across generations.
For myself, I still love to read children's books and that is why I enjoy reviewing them online and on my blog, HTTP:.//bamauthor.me where I post family friendly reviews for all ages twice weekly on Wednesdays and Sundays. Some genres I favor include historical fiction, history, thrillers, and adventure stories.
If you would like to learn more about Little Miss HISTORY and her adventures, here are some ways to connect.
Website             http://www.littlemisshistory.com
Facebook             https://www.facebook.com/LittleMissHISTORY.com
Instagram           https://instagram.com/bamauthor
Twitter                https://twitter.com/bamauthor
Google+              https://plus.google.com/u/0/101786959456508311096
linked in             https://www.linkedin.com/in/bamauthor/
Pinterest             https://www.pinterest.com/bamauthor/
Email                  barbara@littlemisshistory.com
SCBWI               https://www.scbwi.org/members-public/barbara-mojica
Amazon             https://www.amazon.com/Barbara-Ann-Mojica/e/B00B9DOVKC