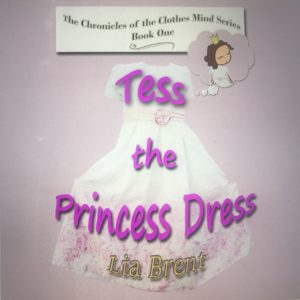 This super cute rhyming story, by Lia Brent, is told from the view point of a princess dress, named Tess!  Tess is a gift to a little girl, named Grace, who wears her every day everywhere!  Tess is happy until one day the weather turns cold and Grace trades Tess for a coat.  Tess is sad but then makes new friends and discovers that she can dance and still have fun without Grace!
This book blends photographs of real people and places with drawings of Tess.  Every page is colorful and eye-catching.  There are only a few words on every other page, in rhyme, so little ones, especially little princesses will adore this book!
I find this book to be special, not only because it is written from a totally unique perspective (at least I have never read a story about how a dress feels!), but it also shows children that they don't have to depend on one individual to make them happy – that they can make their own happiness.  This is a valuable reminder to us all!
If you are interested in this book, there is a direct link to Amazon in the menu column on the left.  Please note that I am an Amazon affiliate which means if you buy anything through my site, I get a very small kickback at no cost to you.