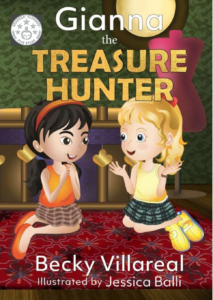 HAPPY NEW YEAR!  I'm excited to share this new chapter book, by Becky Villareal, as my first post of the new year!
This chapter book is about a girl named Gianna, who is a member of her school's Genealogy Club.  In the story, Gianna and her friend, Stephanie, decide to base their class project on Stephanie's family history.  Gianna helps Stephanie speak with her French grandmother to learn about her family.  Stephanie's grandmother tells the girls about her childhood in France, the war and how they came to America. She also tells them that all the information they are looking for is in a special book, which contains a surprise (no spoilers here – you have to read the book to find out)!  Gianna and Stephanie search for the special book and also do some on-line research on their own and learn about Ellis Island, the Statue of Liberty and what it means to be an immigrant, as well as the inspections immigrants had to go through to remain in America.
This book is so well written that I couldn't put it down, even with all the holiday festivities going on around me!  Not only is this book fun to read with important underlying themes of friendship, family, diversity and history, it is educational without sounding like a textbook.  Words are defined conversationally in kid-speak.  Also, I love how the grandmother describes what she saw, and especially how she felt, when she finally arrived to America by ship from France.  This was probably my favorite part of the book.  Kids learn about history and facts in school, but they rarely read about how a particular person felt while all these events were happening.  It was touching and will leave a more lasting impression on children than just reading a history book or genealogy report. This story shows the importance of spending time with family and of listening and learning from elders.  It's so important for everyone, especially children, to be aware of their background, lineage and history.
While this book is about genealogy and learning about one's family, this book also carries the unspoken message of tolerance and acceptance without directly addressing or calling it out.  Gianna is half Mexican and half Choctow and comes from a low/middle class family, while Stephanie is French and comes from a more affluent family.  It doesn't matter to the girls that they are of different races, backgrounds or wealth.  It doesn't affect their friendship or the way they treat each other.  They don't even think about it.  This is the way it should be for all children (and adults for that matter)!   This story is not about diversity and tolerance, which perhaps makes it even more powerful to children because it is not preachy – it's just about friends from different backgrounds helping each other, and feeling good about helping.
One last thing I have to mention which I love about this book is that it has some French and one or two Spanish and Choctow words naturally weaved into conversations in the story.  It makes the story so much more authentic and the definitions are clear by the context, even if you don't know those languages.  And if you are in doubt, there is a glossary in the back!
I highly recommend this book!  Great way to learn about genealogy and immigration, and reinforce the values of family and friendship.
If you are interested in this book, there is a direct link to Amazon in the menu column on the left.  Please note that I am an Amazon affiliate which means if you buy anything through my site, I get a very small kickback at no cost to you.